New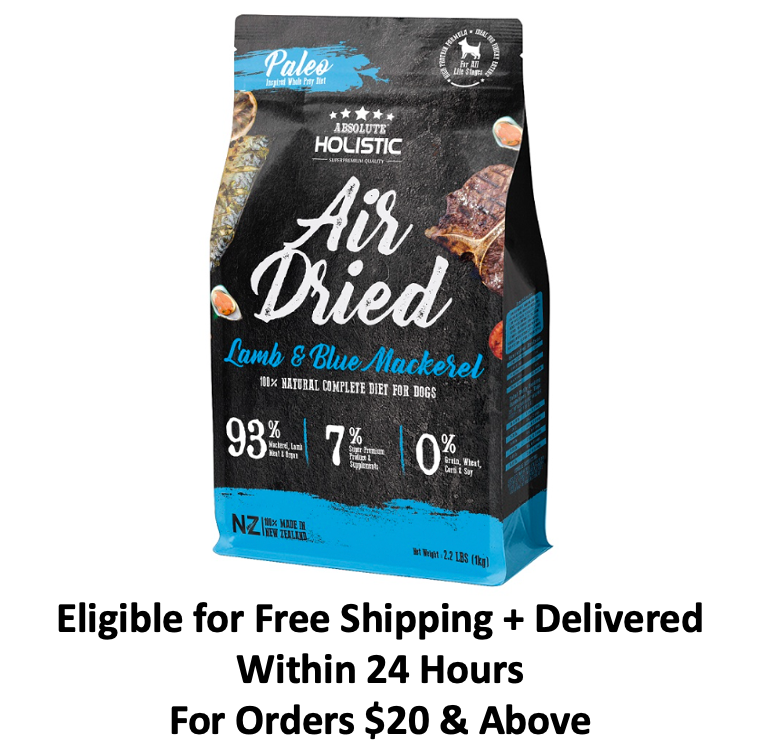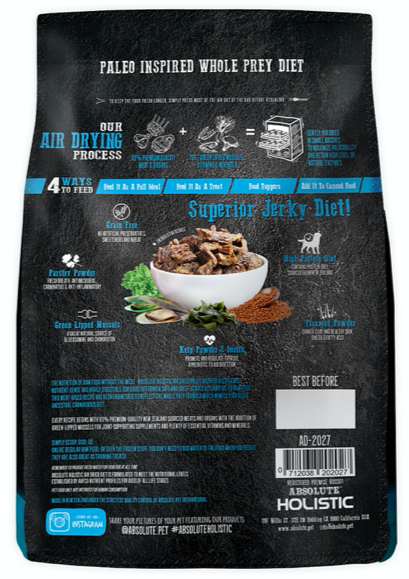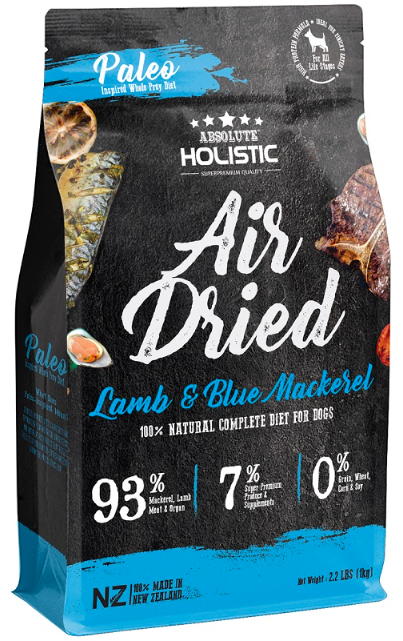 Absolute Holistic
Absolute Holistic Air-Dried Mackerel & Lamb 1kg
Absolute Holistic Air Dried products are slowly dehydrated over 10 hours at a temperature between 72C to 80C (degrees Celsius). The temperature is very low to ensure we do not cook the natural goodness from the meat. By air-drying the food, the proteins, vitamins, nutrients and enzymes contained in the natural ingredients remain intact. This process results in your dog retaining all of the nutritional benefits of a raw food diet. Absolute Holistic Air Dried dog food is Paleo-inspired, grain-free, high protein diet using only 100% super premium natural ingredients. This meat-based recipe is designed to mirror the whole prey formula which mimics your dog's ancestral carnivorous diet. Our Air-Dried recipes are 100% sourced from free-range farms and the blue oceans of New Zealand. These holistic formulations are created with the highest quality ingredients, then air-dried gently to maximise nutrition and retain high levels of natural enzymes, creating a nutrient rich diet in an amazing jerky texture. This formula is ideal for finicky dogs of all life stages. Enjoy every unique way of feeding – including everyday meals, high value training treats or a powerful protein boost to your dog's regular food.
ALL NATURAL GOODNESS
100% New Zealand sourced all natural ingredients. Made in small batches. Food that don't just fill their stomachs, but also keep them healthy and active. Food with ingredient lists that don't double as warning labels. Now that's something to woof about.
Ingredients Lamb, Blue Mackerel, Lamb Liver, Lamb Lung, Vegetable Glycerine, Salmon Oil, Dried Chicory, Parsley, Green Lipped Mussel, Flaxseed, Kelp, Mixed Tocopherols, Vitamins & Minerals (Calcium Carbonate, Choline Chloride, Iron, Zinc, Vitamin E, Copper Sulphate, Selenium, Vitamin B1, Vitamin B3, Vitamin B5, Manganous Oxide, Vitamin B2, Biotin, Vitamin A, Vitamin B12, Calcium Iodate, Vitamin B6, Vitamin D3, Vitamin K, Folic Acid)
Out of stock